My friend and monster-taming counterpart Ilka recently shared (on our German site) why she keeps a diabetes logbook. I wouldn't blame you for assuming it's because she works for mySugr. But there's more to it.
And because I enjoyed her article so much, I want to bring it to life here in English.
Here's Ilka Gdanietz: 
Keeping a diabetes diary or logbook can be a bit boring, most people with diabetes will probably confirm that. 
Honestly, brushing our teeth is also dull and boring – but we do it anyway. Why? Because there are benefits. Our teeth are fresh and clean, we reduce the risk for cavities, and we have a bright, charming smile!
With a diabetes logbook, it's no different. There are benefits!
Here are a few:
1. You need data to optimize therapy
It is what it is. Diabetes and data go hand in hand, and without data it's hard to know what to change or where to focus.
It struck me when my doctor once explained that he couldn't help me without blood sugar records and sent me home. My first reaction was shock and anger.
But you know what? He's right.
He's not clairvoyant. He can't know what my blood sugars have been just by looking at me. And while my HbA1c gives good general information, it can be deceptive, and it's not enough information to optimize anything.
It's hard to remember that I don't log data just to please my doctor or avoid uncomfortable situations. Logging data is good for me!
What about our devices? They record data into their memory, right? Does that mean I don't have to keep a logbook? Good question and a very common objection.
It is better than nothing, but these devices lack context. What do I mean by context? I mean additional information that helps me detect relationships. Ideally, I record even more therapy-relevant information into my logbook, such as:
Insulin
Carbs (what and how much)
Activity or exercise (type and duration)
Location (are you home or traveling?)
Feelings or stress
Notes
More...
Then correlations between blood sugar, food intake, physical activity, insulin dosage, etc., become much easier to understand, and I can identify patterns quickly.
Furthermore, outliers in the data can be found and fixed (or ignored, if there is good reason to do so).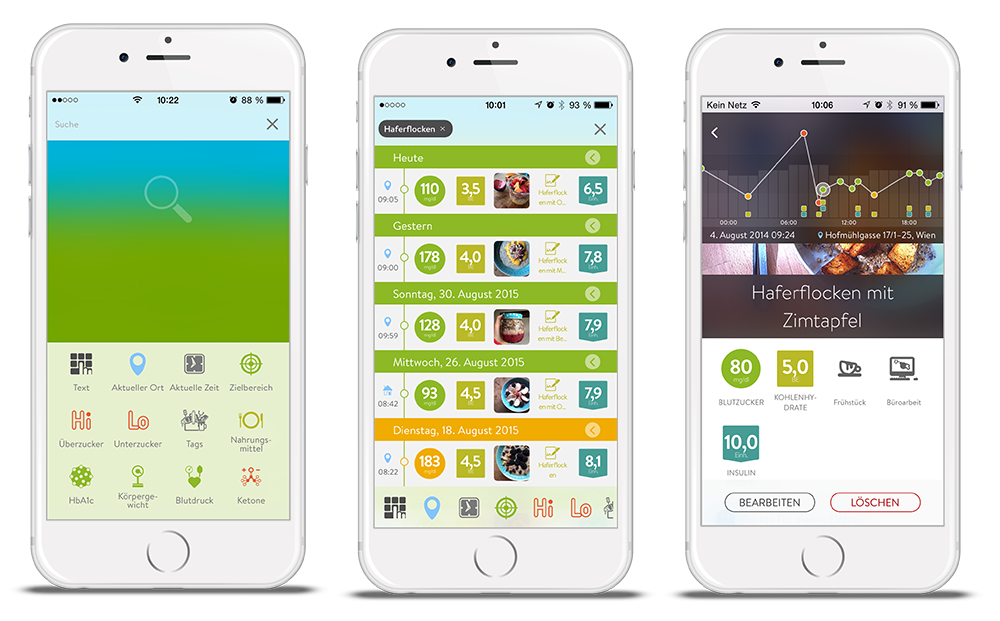 Admittedly, in a paper logbook it would be hard to find specific things. With the mySugr App, I can use the search feature to find every time I've eaten Haferflocken – it's all available with a couple taps and in a few seconds.
A practical example:
I recently noticed high blood sugars before lunch. When scanning my meal photos and descriptions, I could see this only happened when I ate a particular type of bread for breakfast. So I increased my insulin a little bit when eating that meal, and the problem was solved. It's that easy.
Searching in mySugr is very powerful, and we've got a few cool tricks to teach you. We'll do another article about it soon.
2. Regular logging may improve blood sugar and HbA1c
Becoming more engaged with your diabetes should improve overall diabetes management. At least, to a point. It makes sense, right? You're paying attention more, you're keeping track of things, and you're getting subtle feedback just from seeing the information you track. I can personally attest to it. I have more stable values with fewer highs and lows along with a less quarrelsome HbA1c. Sounds like a plan, right?

3. Have you ever been asked for blood sugar records?
In Germany, it's usually necessary to send 3-6 months of blood sugar records with an insulin pump or CGM application for financial coverage or reimbursement. If they don't ask for it, you lucked out with an exceptionally friendly clerk (or one who was asleep).
Scott also tells me that some insurance companies in the U.S. require blood glucose records just to get a monthly supply of test strips. A well-documented logbook can make the difference between approval or denial. The rumor is that it's hardly glanced at, though I can't confirm from personal experience. However, stories of rejections based on falsified logs or insufficient data are not hard to find, so they must face scrutiny somewhere. With my logs, it's a relief to know I have everything I need for the next diabetes-data audit right at my fingertips.
Conclusion
It takes effort and a little discipline to keep a diabetes logbook. Of course, it does. I get that. But once started, it quickly becomes a habit. Especially if the logbook fits your lifestyle, provides real-time benefits, and leads to improved diabetes management.
That was the case for me, at least.
Thanks, Ilka! I agree with the habit part. Once I get a day or two under my belt, the momentum often keeps me going. Plus it feels nice to look at my logbook full of data and know I'm staying engaged.