A battle of blood sugars? With cookies?! Yep, you got it!
What started off as a silly little game, led to us building a large company and helping change how nearly 2 million people with diabetes see their therapy. Funny, how life sometimes develops, isn't it?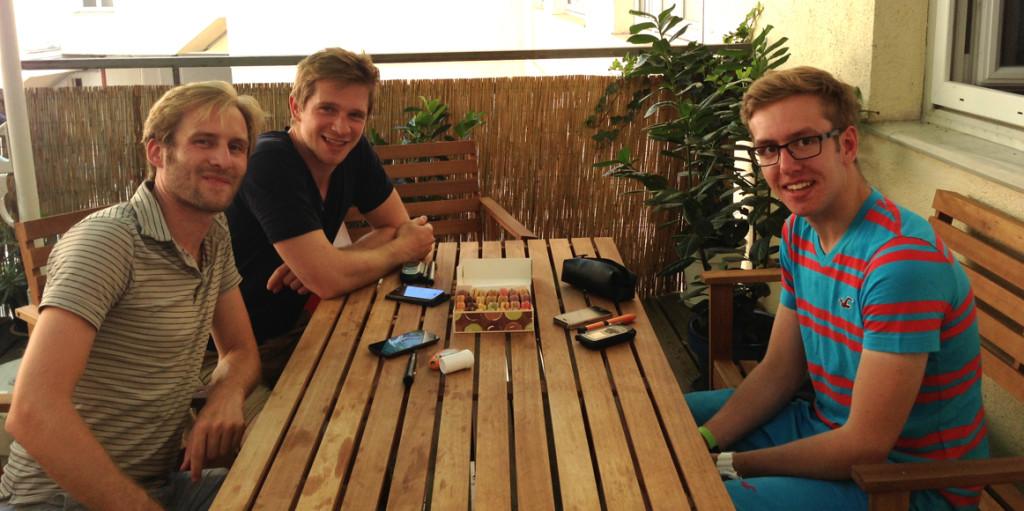 A few weeks ago Chris from Germany came to Vienna for a few days. We were honored that one of his goals was to visit us in mySugr HQ! He was diagnosed in 2010 and has been using mySugr for a few months. Chris pinged us on a German diabetes forum, insulinclub.de and asked if he could come by. Our office is always open, so of course he had to join us for a day! But, not without a battle!
A BG Battle? Yes sir!
It's all about control and having fun with what we've got. The basic form is to simply measure against a friend and see who lands closest to your target – preferably with a bigger challenge to it: an evil meal or a vicious sport mixed in to spice it up! Oh, and add a prize for the winner!
We were joined by Anton, type 1 since 25 years and heading the newly minted mySugr Learning project, so with three d-peeps and a box of macaroons (French macaroon's) stuffed with fatty sugary goodness, we went at it.
Shooting Up
The macaroons are a delicacy I have had before, but this being a battle I didn't use the search feature of our diabetes management app to find out how I did last time around – that would be cheating! I estimated the devilish little cookies at 10 grams of carbs per piece and since they have a decent amount of fat I shot a dual wave bolus: 30% at once and 70% spread over 1.5 hours. As you can see, it didn't really pan out for the game:
Round #1 (1 hour after cookies)
★ ★ Chris: 107 mg/dl - +2 Pt. ★ Anton : 109 mg/dl - +1 Pt. Fredrik : 209 mg/dl - 0 Pt. (D'oh!)
Round #2 (2 hours after cookies)
★ ★ Anton: 90 - +2 Pt. ★ Chris: 116 - +1 Pt. Fredrik: 151 - 0 Pt.
The Finals (3 hours after cookies)
★ Chris : 77 mg/dl - +1 Pt. (hypo coming on!) ★ Fredrik : 151 mg/dl - +1 Pt. ☠ ☠ Anton : 65 mg/dl - -2 Pt. since he was in hypo wonderland!
The Winner!
We decided to put some money on it, so all of us chipped in with 10€ of Amazon vouchers. Chris, with 4 points, absolutely owned both me and Anton! Though he does admit that he had to snack a few minutes after the last round ;)
Same Same, but Different
Chris, the honored winner of the battle, bolused for 80 grams of carbs. I injected for 40 and Anton for 30 grams! We are all decently well in control of our therapy, estimated and injected using different strategies and we all made it out ok, albeit not perfectly. It just goes to show how diabetes is totally different for all of us and that even though on paper it is decently predictable what happens, the theory just doesn't always pan out.
I see this more fun and a bit quirky way of dealing with the ins and outs of diabetes therapy as a giant leap when it comes to day to day life and keeping at it. It's part of what I've written about before, about flipping how we see our therapy and how we live with it. If the drudgery of the therapy can make me smile, it's something I am way more likely to keep on doing!
If you have an explanation for how we could still end up with ok values or have your own quirky game you play, feel free to drop us a line or add it as a comment.