mySugr's topmost ambition is to make diabetes suck less. We also want to reduce the stress of taking dozens of therapy decisions every day. Clearly, there are more exciting things to do, over the course of a day, than to think about diabetes. In a perfect world, you wouldn't have to worry about it at all.
Since February 2019 the data integration of the Eversense XL sensor into the mySugr app is live. So, what's cooler than integration with a time delay? Being able to import your data in near-to-real time. It's very important for us to work fast. And to get you the best updates that enhance managing your diabetes therapy. But sometimes, getting this right takes a little longer, for technical and legal reasons. We're obsessed with making sure that everything we release is secure. Every time.
CGM near-to-real time Integration and mySugr Pro
We're pumped to be able to expand the cooperation with Eversense and tell you about the newly updated CGM integration. As of right now, Eversense XL data can be synced into the mySugr app in near-to-real time. On iOS and Android, there is no longer a three-hour delay while you wait for your data to sync. Users are able to see their CGM curve in near-to-real time on their device.* And that's not all: As soon as Eversense XL and mySugr connect (which is super easy to do through the "Connections" menu option) your account gets automatically upgraded to mySugr Pro. This opens up so many more super-helpful options to you, like PDF reports that include your CGM curve, and an intelligent search function. Please note: By default, the upload of the CGM data happens automatically. Should it be disabled for some reason, simply re-activate this feature. Without taking that step, your CGM curve can't be synced with the mySugr app. Go to the Eversense app settings, and under Share my data → Sync → Auto Sync. Insider tip: You still need to calibrate your sensor with the Eversense app. To import your blood glucose values automatically into the mySugr app, just use one of the mySugr app-supported blood glucose meters. When you do that, your data is automatically transferred to your diary and voila! You now have all your data stored in one place.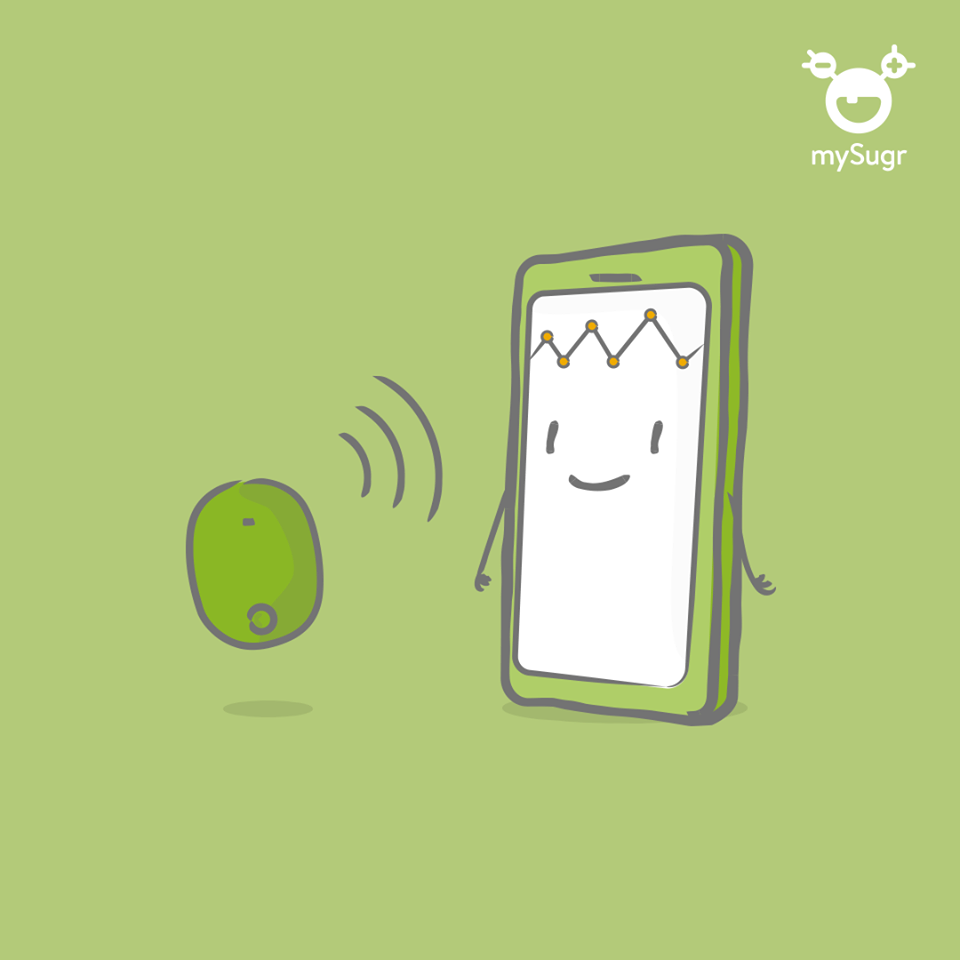 CGM Simplifies Your Diabetes Therapy
When mySugr was founded, in 2012, continuous glucose monitoring (CGM) was still in its infancy and the focus of the app was still on traditionally calculated blood glucose values. Over the years, CGM systems have not only risen in prominence, but they are also now available through insurance providers in a number of countries. With a CGM device, people with diabetes (PwDs) get a better overview of their data. As a result, they also get a better understanding of their diabetes. They have faster reactions too. This helps them avoid hypos and hypers. You can read more about CGM in this article.
The Eversense XL CGM System
The Eversense XL system is different from other CGM systems in the market. Instead of having to replace the sensor every 7-14 days, the Eversense XL is inserted under the skin for up to 180 days. This super-extended duration requires fewer materials to produce the sensor and the receiver. This means less waste. And a reduced environmental impact. Hurrah! The extended life of this sensor is possible because it is inserted through a minor procedure – which means no more weekly or bi-weekly self-insertions! A single prick of anesthetic is all you actually feel. And hey, we're all familiar with needles , aren't we?
MARD – How Accurate Are Eversense XL Measurements?
The MARD (mean absolute relative difference) describes the accuracy of a CGM sensor in percentage points. The less the MARD, the smaller the deviation. The new Eversense XL Smart Transmitter has a great MARD of 9.4%. If you'd like to know more about the world of MARD, check out this paper: Significance and Reliability of MARD for the Accuracy of CGM Systems. Only a few years ago, the MARD of early CGM systems was significantly higher (sometimes by as much as +20%).
Vibration Signal Right On Your Arm
Another advantage of the Eversense XL sensor, compared to other systems, is the unique vibration alarm directly inside the Smart Transmitter. That means that if your blood glucose value drops, or spikes, or if it deviates from the predefined target range, the Smart Transmitter starts vibrating discreetly on your arm. The volume of the Smart Transmitter can also be turned up through the app. Personally, I found this feature really valuable. Especially because it does not need to be confirmed or turned off in the pump, remote control or smartphone. For some people, this might sound unspectacular. But it is small changes like these that can make your daily diabetes routine much easier.
Soft Silicon Patches
The Smart Transmitter sticks on an adhesive patch, which is placed over the site where the sensor is inserted. The patch can be removed at any time. The well-known problem of catching your sensor on a door frame and having to replace it is now firmly in the past. Unlike other CGM systems, you can simply stick the Eversense XL sensor back onto your arm, if it falls off. Also, the patch for the Eversense XL Smart Transmitter does not have any acrylate, a substance usually found in CGM patches or pump catheters. Acrylate can cause allergic contact reactions. The Eversense XL patch, on the other hand, is silicone-based, which can help to prevent skin reactions and can be removed from the skin easily. People with sensitive or hairy skin can find removing this sensor preferable. The patch and the Smart Transmitter can be re-attached if they come off. Because the plaster is changed daily, you can clean the site where the transmitter is attached and keep it fresh.  Do you want to try the Eversense XL CGM system? Get more information here. *Germany, Austria, Switzerland, Italy, Belgium, Netherlands, Poland, South Africa, Spain, UK Source MARD: Six-Month Data on Long-Term Eversense CGM System Show Sustained Accuracy in Longest Pediatric Continuous Sensor Study
The mySugr website does not provide medical or legal advice. mySugr blog articles are not scientific articles, but intended for informational purposes only.
Medical or nutritional information on the mySugr website is not intended to replace professional medical advice, diagnosis or treatment. Always consult a physician or health care provider with any questions you may have regarding a medical condition.