Like a kid unwrapping a gift, you're full of excitement as you break the seals on the beautiful green mySugr Bundle starter box.
You lift the lid and your eyes take it all in… But where to start? Don't worry – we'll take you through the first few steps and answer any questions that might come to mind.
First things first
Connect your Accu-Chek® Guide meter to the mySugr app – it's the first and most important step in the process. This connection accomplishes a couple of things:
It provides your mySugr Coach blood sugar readings and tags
It tells mySugr when to send you more strips
Connecting is quick and easy. Watch this short video to learn how: https://vimeo.com/209542856 Once connected, you can check your blood sugar without worry! We'll keep an eye on your strip supply and automatically send more as needed. You don't have to place an order, press a button, or even keep track of how many strips you have left. We'll take care of everything. Now you can enjoy your newfound freedom. If you've questioned your blood sugar, but were short on strips and couldn't figure it out, now you can find out. Check like crazy if you want. If you've ever battled your insurance company for more strips, your fight is over. If you've sacrificed nice things just for more strips, sacrifice no more. Let the reality of unlimited strips from the mySugr Bundle sink in and bring peace to your heart and mind.
Log more helpful info
Your blood sugar readings automatically synchronize into mySugr Logbook. But you can also manually add anything else you think might be helpful. For example, if you want to add information about your meals or a photo, it's just a tap or two away. You can also add a reminder, track your location, include notes, medication doses, activity, and much more.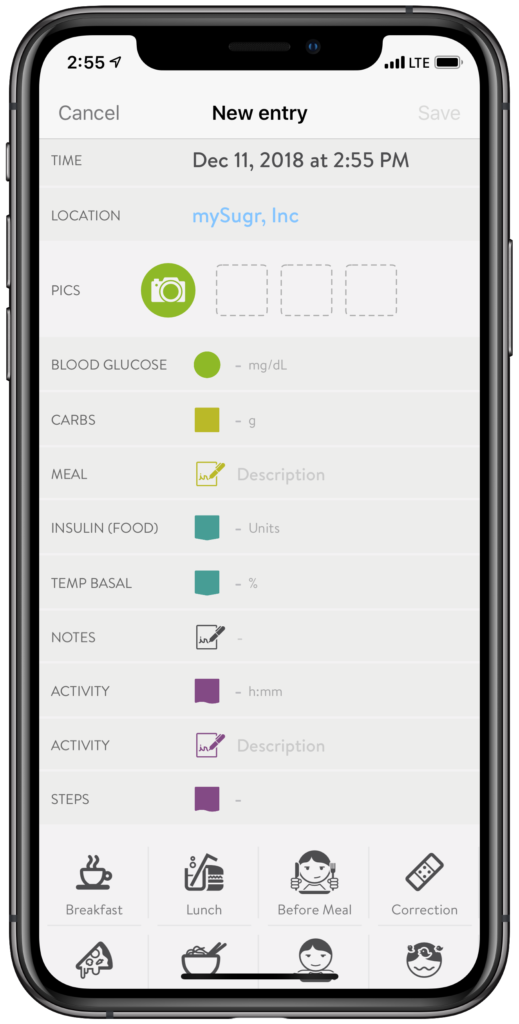 Not sure what other information might help? What a great transition into the next section!
Message your coach
Did you know mySugr Coach is automatically included with the mySugr Bundle? That's right - you now have unlimited access to your very own certified diabetes educator right in the palm of your hand.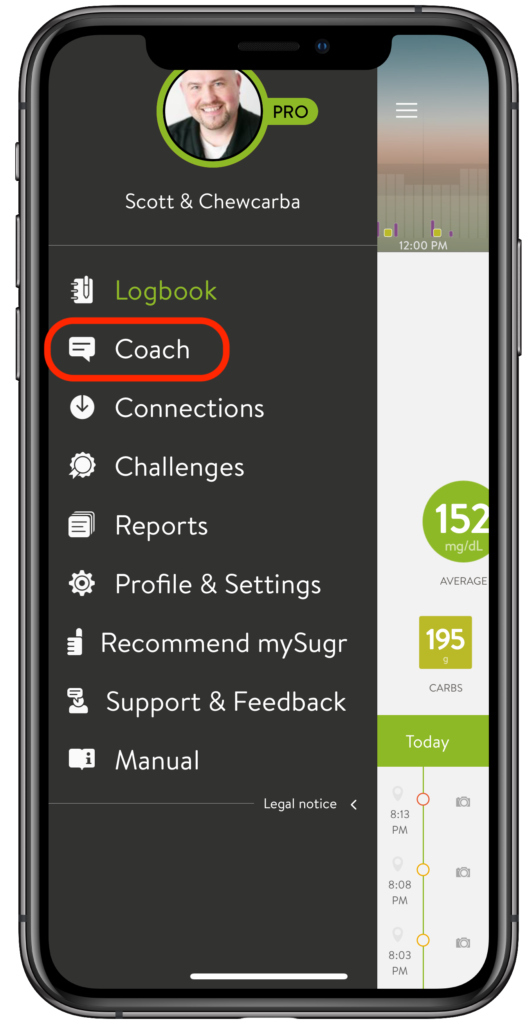 Getting started is as easy as tapping "Coach" in the side menu and sending messages back and forth. You can even ask what type of information would be helpful to log!
What other types of questions can I ask?
Here are some great starter questions/examples. Feel free to copy any of these into your new message window!
I was just diagnosed with diabetes and my doctor hasn't provided with me much information, where should I start?
What is the goal for my blood sugars?
My doctor prescribed me a new medication, how does it work and when should I take it?
I want to work on my diet, can you help me?
My blood sugars are always higher in the morning, why does this happen?
My doctor told me I have type 2 diabetes, how is this different than type 1?
I just started insulin and I'm a little scared, why do I need to take it?
I know exercise is good for me, but I always dread it, how can I make it more enjoyable?
My doctor told me I need to "watch my carb intake." What foods have carbs?
Why are my blood sugars always high after I eat?
I'm trying to lose weight, but it's been really hard. Can we talk about diabetes and weight loss?
And just like that, you are on your way! Your diabetes coach will take a look at your question, analyze your information, and pull together a detailed reply just for you! You'll get a notification when you have a new message. You can go back and forth with your coach as often as you like, and you can ask your coach for help as often as you want to. For more information on mySugr Coach, read "How to get started with mySugr Coach."
Need more help?
We hope this information is enough to get you started, but we're always here and happy to help. Check out the Frequently Asked Questions here and here, or reach out to support@mysugr.com and we'll get you up and running as quickly as possible.
The mySugr website does not provide medical or legal advice. mySugr blog articles are not scientific articles, but intended for informational purposes only.
Medical or nutritional information on the mySugr website is not intended to replace professional medical advice, diagnosis or treatment. Always consult a physician or health care provider with any questions you may have regarding a medical condition.