Logging, tracking, managing, not very glamorous words. I've tried to make my paper logbooks more appealing multiple times in the past with stickers and 4-color pens, but nothing really worked out for me.
But I know it's super duper important, and if you're not convinced have a look at Ilka's post on the subject, you may change your mind.
So today, I'd like to tell you more about logging with mySugr, how we've tried to make everything easy, how to find your way around, and how to make it best for you by customizing your logging screen.
Here's a full walkthrough video (or skip down if you'd rather read)…
Note: this walkthrough does not include using the bolus calculator module (approved for use in EU)
How do you log?
Let's start with the basics. Just tap on the "+" on your dashboard. From there, you arrive at your logging screen. There's one field for each item you may want to log (you can have a look at the overview of the different items below).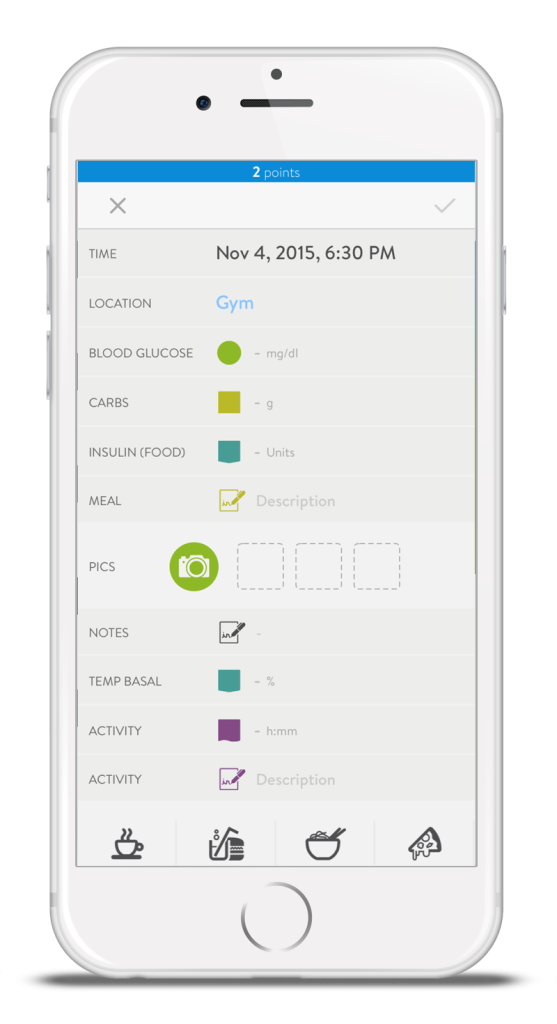 The time and date are automatically set for you, and so is the location (assuming location services are enabled). You can, of course, change any of these by tapping on them – to enter readings from earlier in the day or another day altogether.
Pro Tip: When changing the date or time, always change the day first. If not, mySugr thinks you're trying to save data in the future and, well, that's just silly, right?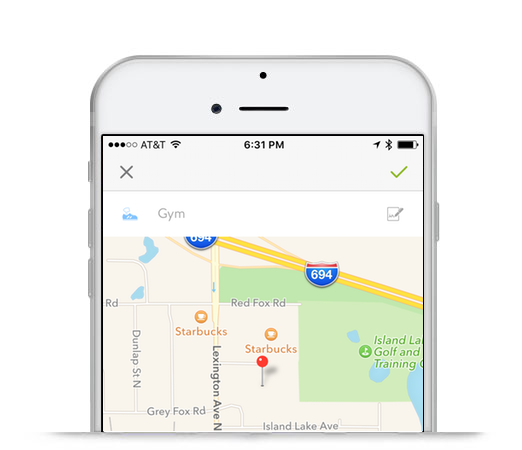 Pro Tip: You can assign labels and icons to locations (home, work, gym, etc.). Tap the location field, type a label, pick an icon, enjoy!
Once you're done filling the fields, scroll down and tap on "save" or tap directly on the green check in the top right corner. You'll be back on your home screen, and your entry will appear on your list. Swipe an entry to the right to reveal an action bar with options to share, edit or delete.
From there, just tap on what you need. When tapping on "edit", you'll be led back to the logging screen, pre-filled with the data you had in this entry. Just change what you need and save it again.
What can you log?
We have created fields to cover many facets of our therapy as treatment-related information (like insulin doses and pills), key measurements, vital data, food, activity, notes and lots of other contextual information.

I know all of these input options may feel overwhelming to some of you, but there are two points I want to make about them.
First, they are all optional. You can create an entry with data in every field, or if you want to create an entry with only a tag or note, that's fine. It's up to you.
Second, you can hide fields you don't care about, and even rearrange the order on your screen. That means you get to decide what's most important to you and where it is on your screen. That's my absolute favorite thing!
To make life easier, we're always working on connected devices and service integrations so your diabetes equipment does more of the work for you. You'll find the list of available connections in the side menu of the mySugr app in the "Connections" menu item.
And we're always happy to help get you started if you need a hand.
Your settings - units & target ranges
To make the most of mySugr, first things first, we need a few details from you. Does your meter show BG's in mg/dL or mmol/L? Do you count carbs in grams or exchanges? Do you use insulin? If so, is it with pens/syringes, or do you use an insulin pump?
Setting these therapy details as well as your specific target ranges help us craft a great experience for you. All of these things are in the "Therapy" tab of the "Settings & Profile" item in the side menu.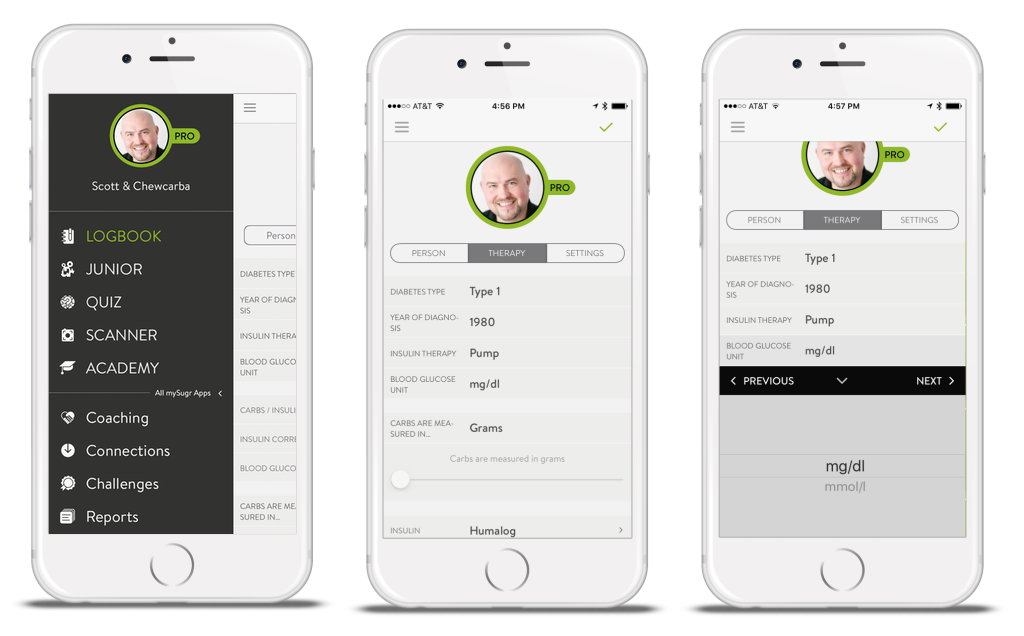 Reminders & tags
Two features deserve a little more attention: reminders and tags. Tags help tell the story of your diabetes data. We recently wrote an article about that's called "Using tags to tame your diabetes monster."
The reminder is the little clock on a timeline at the very top or very bottom of your logging screen (unless you've already moved it). It's meant to help remind you to do something shortly (15 minutes - 3 hours) after your entry. Use it to remember your post-meal BG check, or to take your shot at the end of a meal when you have a low… your imagination is the limit!
To set a reminder, just slide the clock across the timeline to the desired time. At that time, your alarm will ring, and you'll get a notification. Activate the reminder to launch right into a new entry screen.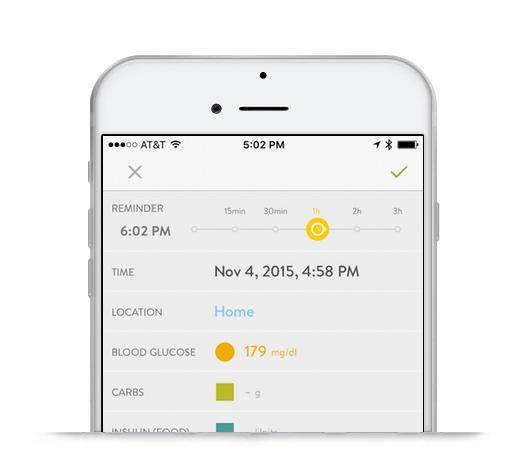 Habits & shortcuts
All that being said, logging is a habit like any other. It takes time to build, and you'll probably get tired of it sometimes. Keep it up! The monster will always be there to cheer you up.
We'll keep investigating easier and faster ways to get all of your data into mySugr and how to make it more useful for you. We've got diabetes ourselves, and we want faster, easier, and more useful, too! We also know that you keep discovering new ways of getting the most out of it, too, and we'd love to hear your tips and tricks!
Pro Tip: Scott recently shared that he's configured keyboard shortcuts in his smartphone for commonly used phrases. He has things like "bb" for "Basketball", "bbb" for "Before basketball", "dbb" for "During basketball", and "abb" for "After basketball" that speed up the notes and activity details he enters.
Pay attention to things you type often, and create shortcuts to shave off a few seconds and keystrokes. Don't forget about some of the cool things like this that are already built into your smartphone! Bam!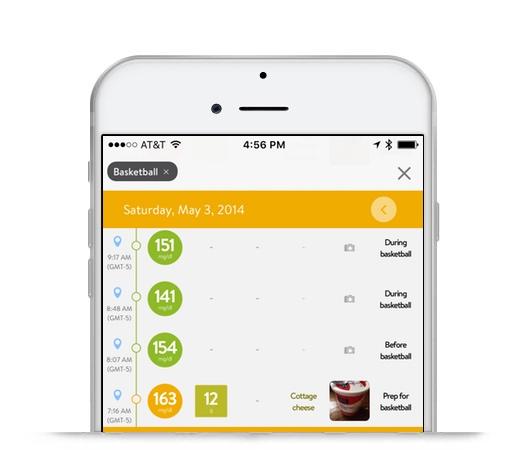 The mySugr website does not provide medical or legal advice. mySugr blog articles are not scientific articles, but intended for informational purposes only.
Medical or nutritional information on the mySugr website is not intended to replace professional medical advice, diagnosis or treatment. Always consult a physician or health care provider with any questions you may have regarding a medical condition.