Imagine opening the mySugr app and your diabetes data is just there. You didn't manually log anything. You didn't synchronize anything. You didn't upload or download anything. Your data is just there. Like magic.
And because your data is there, you feel more in control. You've got a clear overview of your therapy on the home screen, including an estimated HbA1c, a clear graph of your blood sugars, and reports for your doctor available at the press of a button. You can finally see where your diabetes therapy is, no extra work required.
Automatic Logging
Is it too good to be true? With the Accu-Chek® Aviva Connect or Performa Connect meter, all you have to do is connect your meter to the mySugr app and check your blood sugar. We'll take care of the rest.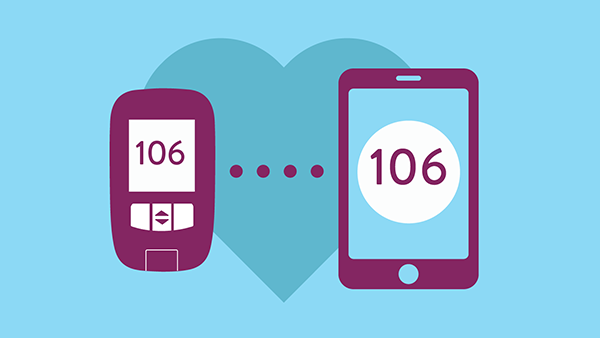 How does it work?
If you've just received your meter (or you already own one) let's get it connected to mySugr. The steps below cover the basics of getting connected. But we also have more detailed information available if this isn't enough.
Bluetooth You'll need to enable Bluetooth on your smartphone if it's not already turned on. If you use a wireless headset, play music on a wireless speaker, or connect to a hands-free system in your car you're probably already using Bluetooth. If all of this sounds strange, you may need to refer to your smartphone manufacturer for additional instructions.
Open mySugr and find "Connections" in the side menu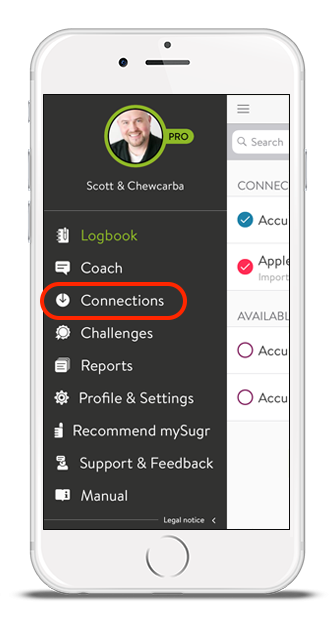 Select your meter from the list, tap "Activate", then grab your meter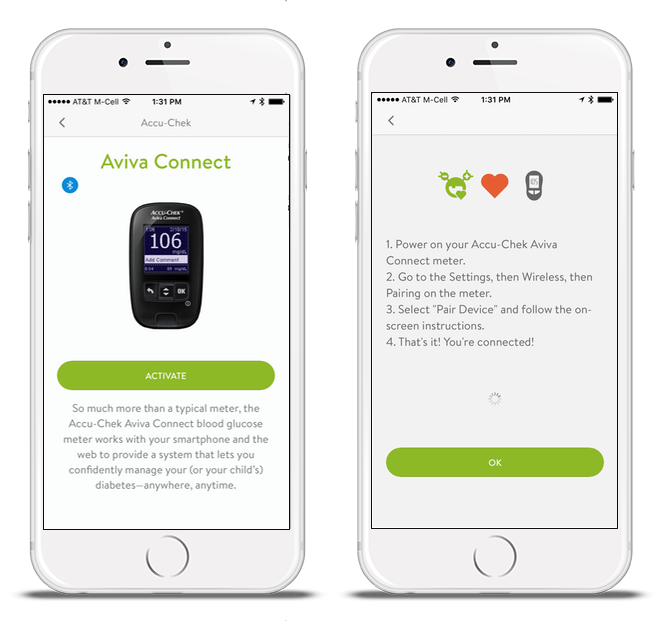 Turn on your meter, find "Settings", then "Wireless", then "Pairing", and finally "Pair Device" to create a new wireless connection. Watch for a pairing notification on your smartphone (via a popup message or in your notification center). Enter the code displayed on your meter into the notification on your smartphone to confirm the pairing. You can turn your meter off now, it's connected to mySugr! You can return to the home screen via the side menu.
Turn on the magic Do you remember flying past an option called "Auto-Send" in the wireless menu of your meter? You'll want to turn that on and restart your meter. With that option enabled, each time you check your blood sugar the result is sent to mySugr before your meter turns itself off. After enabling Auto-Send, each time you turn on your meter it will check for any unsynchronized readings and will transfer any it finds.
Getting Test Strips
Getting the correct test strips is simple.
In the US:
Contact your physician.
Obtain your prescription for a refill of Accu-Chek Aviva Plus test strips.
Fill your prescription at your local pharmacy.
In Germany:
Contact your physician or diabetes educator.
Obtain your prescription for a refill of Accu-Chek Aviva Plus test strips.
Fill your prescription at your local pharmacy or preferred online distributor.
In Austria:
Contact your physician or diabetes educator.
Obtain your prescription for a refill of Accu-Chek Performa test strips.
Bring your prescription to your "Krankenkasse" to receive your test strip refill.
In Italy:
Contact your physician or diabetes educator.
Obtain your prescription for a refill of Accu-Chek Aviva Plus test strips.
Fill your prescription at your local pharmacy
In Belgium:
If you are eligible for reimbursement through the convention, you may obtain your test strips directly in the hospital. Your HCP will determine how many test strips you need.
If you are not eligible for reimbursement via carepath, you may obtain your test strip in the pharmacy with a prescription.
If you receive no reimbursement, you may also purchase your test strips in the pharmacy without a prescription.
In Canada:
Ask your pharmacist for Accu-Chek Aviva test strips.
You're all set
Believe it or not, that's it! You're now building a powerful record of you and your diabetes data without any extra work – just testing your blood sugar like you've always done. Don't be surprised if you find yourself testing more now! It's amazing what a bit of convenience and useful information can do for your motivation!
Stick around for more?
If you'd like to keep reading, I'm going to dive a little deeper into some additional benefits and also cover some troubleshooting steps in case you need them.
Tips & tricks
Edit Entries After a blood sugar result is sent to mySugr, you can edit it as desired (add carbs, insulin, notes, etc.). If you have notifications enabled, you can tap the notification to jump directly into the edit screen in mySugr.
Backend Merge But you can also save a step by adding another new entry with your carbs, insulin, meal photos, other notes, etc., and once saved it will be merged into a single entry with your synced blood sugar from your connected meter.
Notifications You'll get a notification on your smartphone whenever mySugr receives information from your meter. You're always in control of the notifications you receive, and can adjust them in your smartphone settings, just like any other notifications (sound or no sound, badge app icon or not, banner or alert box, etc.). But do keep in mind that whatever notification preferences you set here will also affect how BG reminders behave if you decide to use that feature. Learn more...
Benefits & favorite features
Once you have blood glucose results feeding mySugr, it starts returning some powerful and interesting information. Here are some of my favorites:
Estimated HbA1c - No more surprises when you visit your doctor for quarterly lab results. If you're testing often enough, you'll have a good idea what your HbA1c is before you walk in the door. Learn more...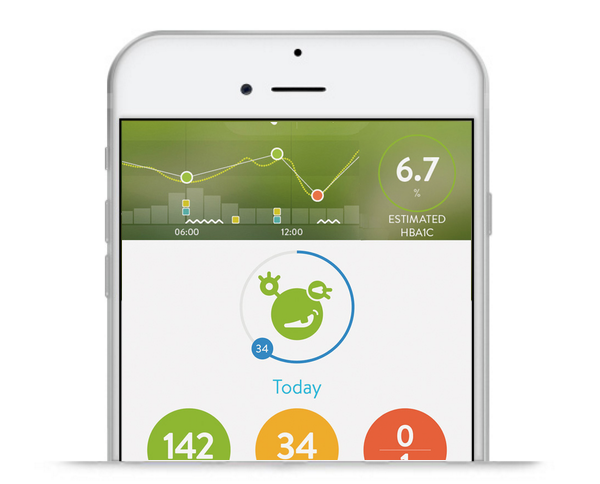 Home screen - I immediately see a graph of today's blood sugar, my estimated HbA1c, a trace of my CGM, indications of both manually logged activity and activity captured from sensors and other apps. Right below the graph, I have my diabetes monster (named "Chewcarba," if you're curious) and a bunch of very useful information.
Most valuable to me, at a glance, is my average (self-explanatory, right?), standard deviation (which helps me see if my average is from stable BGs or a bunch of highs & lows), and my total number of carbs so far today.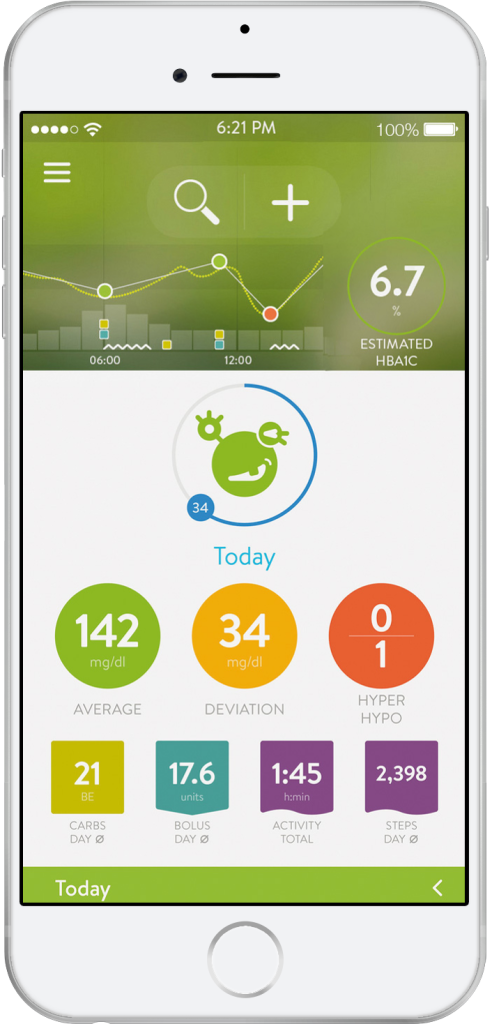 Analysis - Aside from the helpful overview on the home screen, slicing and segmenting my data into 7, 14, 30, and 90 day periods is only a swipe away. Try it! Just swipe your home screen to the side! Now scroll down to compare one to the next. Now expand the arrow… Nice, right? Learn more...
Reports - A detailed logbook report is available anytime. I print one off before my routine doctor appointment and as he's looking at the report I can follow along in mySugr to answer questions he has. Learn more…
Searches - There's an incredibly powerful search function built into mySugr. For example, imagine you walk into a restaurant. You know you've been there before, but you can't remember what you ate or how much insulin you took or how it all worked out. With mySugr's search function, you can ask mySugr about every entry made at your current location. With that, you can see exactly what you did last time you were there and decide what to do. You even have a beautiful picture of your meal to compare. Learn more...
Troubleshooting & special situations
There may be times when things don't go as planned. Here are a few that I've bumped into, and how you can quickly take care of them on your own. But if you ever need more help, we're always here for you!
What if I've done a bunch of tests away from my phone? Great question! So you have a bunch of BGs on your meter, but they couldn't automatically log because your phone wasn't around. What do you do?
Once you're back to your phone (and it never hurts to have mySugr up and running), turn on your meter and give them a few seconds to reconnect. The readings should transfer once communication is established.
If you need to force the issue, on the meter, find "My Data", then "Data Transfer", then "Wireless", and the transfer will start.
What if I've done a bunch of tests AND manually logged those same readings? Aha! So you have duplicates! No worries! mySugr is pretty smart about duplicates. All entries with the same blood glucose value and a similar time will be merged together. No double entries. Is that nice or what?
What if it doesn't sync? Try turning off your meter (hold down the "OK" button until the shutdown progress bar finishes), kill the mySugr app (iOS: double tap the home button, swipe up on mySugr. Android: launch your app manager and swipe away mySugr), then restart mySugr  and turn on your meter again. Give them a few seconds to communicate and see if the synchronization happens automatically. If not, try using the "Data Transfer" menu mentioned above to force it. If that still doesn't help, then please let us know.
What if I need help with the actual meter, or doing a BG test?
This depends a little bit on where you live, and where you got your meter from.
On the back of your meter, there is a toll-free phone number that will connect you with the people you need to talk to (in the U.S., that number is 800-858-8072, or use this contact form). Give them a call and let them know what you need help with. They may need the serial number from your meter, so be sure to have it with you when calling.
Anything else?
Is there anything else I can help with? Do you have any questions I didn't answer? Please let me know in the comments and I'll get back to you as quick as I can.