It's great to learn how other people with diabetes take care of themselves. We can learn a lot from each other if we're open to it. Their experiences and mindsets might shed new light on a problem we're having, or show us a cool new way to do something
With that in mind, we're asking some of the people at mySugr with diabetes to share what's in their diabetes toolkit, and why. You've already heard from Marlis, Lukas, Sarah, and more. Today we have Ilka. She's been a part of mySugr for a very long time, and also runs a popular diabetes blog along with her fun Instagram & Twitter channels.
When were you diagnosed?
At the age of 10. It was the summer of 1990 right after a holiday in Italy. Completely tanned and taken right to the hospital. I remember that pretty well. And honestly, I think it best to have been diagnosed as a child. I imagine it's much easier that way than as an adult, even though the diabetes therapy was totally different back then. Blood sugar meters as big as bricks, lancing devices that could have passed as a weapon, fixed food plans, scary sugar-free sweets …
What is your secret weapon for hypos?
Nutella! Yes, yes, I know. Not ideal because of too much fat etc. But that's all theory. Everybody reacts a little differently. 1-2 teaspoons of Nutella and my hypo is "eaten." I'm not sure why, but Nutella works much faster for me than glucose tabs, which I don't like anyway. Disadvantage: a breakfast sandwich with Nutella I have to calculate exactly to avoid a fast spike, or plan carefully for it. Of course, I don't always carry a glass of Nutella around with me. Gummy bears also work well, as long as I slow down and don't eat too many.  Incidentally, jelly beans are easy to calculate. On average, they each have about 1g carbohydrates.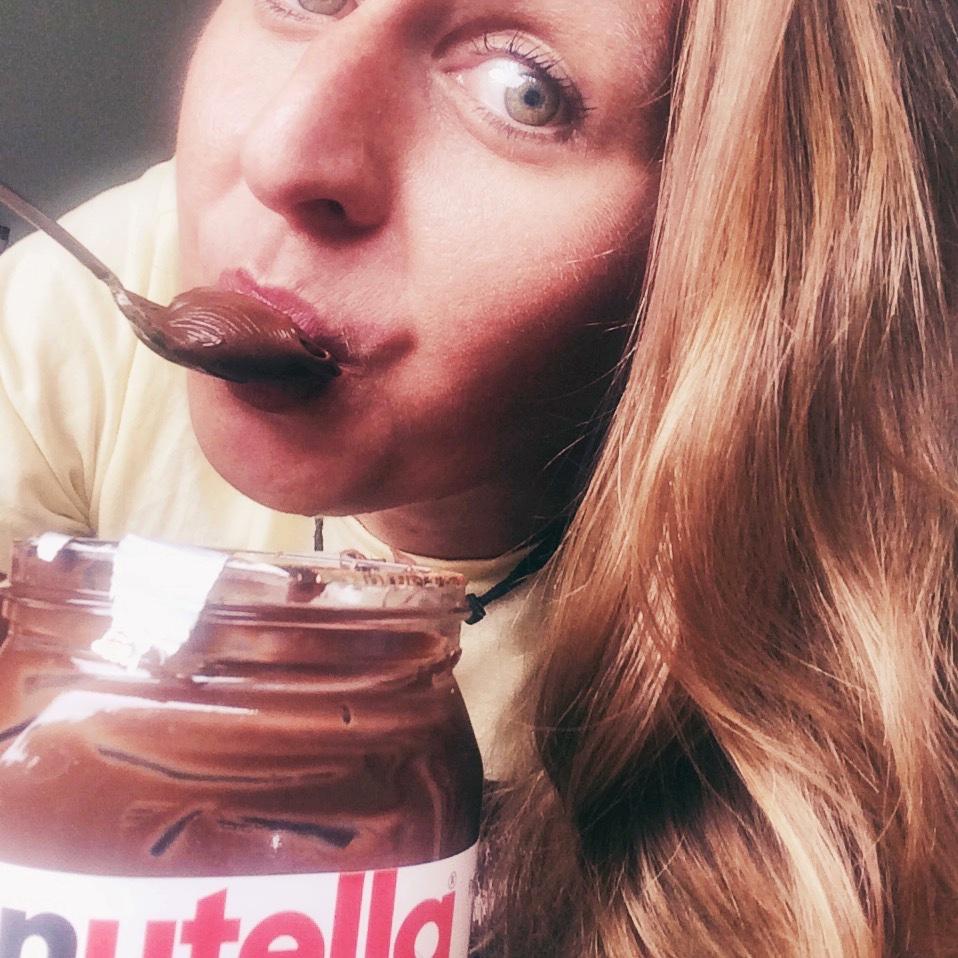 Which blood glucose meter do you use? Why?
I bounce back and forth between 2 devices. On the one hand, I prefer to use the Bayer Contour®NEXT LINK because it communicates with my insulin pump. This is very helpful for the built-in bolus calculator on my pump, or to calibrate the CGM sensor quickly – everything is automatically sent to the pump. My second favorite is my Accu-Chek® Guide meter because it immediately syncs into mySugr. This helps a lot when I don't feel like logging my blood sugar levels. It couldn't be easier.
What do you use to deliver your insulin? Why did you choose that device or method?
I use an insulin pump. For the last 16 years, I carry my external pancreas in my pocket. Back when I started, it was the Disetronic H-Tron. Today, I wear the Minimed 640G. I can hardly imagine my diabetes therapy without a pump. Back then, I switched from intensified conventional insulin therapy (ICT) to pump therapy (ICTII) because I couldn't get my fasting blood sugars under control. Classic dawn phenomenon. At that time, I didn't realize the other benefits the pump offers. For example, I am much more flexible with my exercise. I can adjust the basal rate exactly as I need, or even turn the pump off altogether. That's just not possible with a pen. Besides, I love the SmartGuard feature of the 640G. It automatically adjusts the insulin supply before I am low. I've had way fewer lows on this system than before. I wrote about it in detail recently (sorry, that post is in German...)
What are some of the important things in your diabetes toolkit?
I hate dragging too much stuff around with me, so I travel pretty light. However, I always have a few things with me.
BG testing stuff
A battery
Mini syringes
Insulin pen
Hypo treatment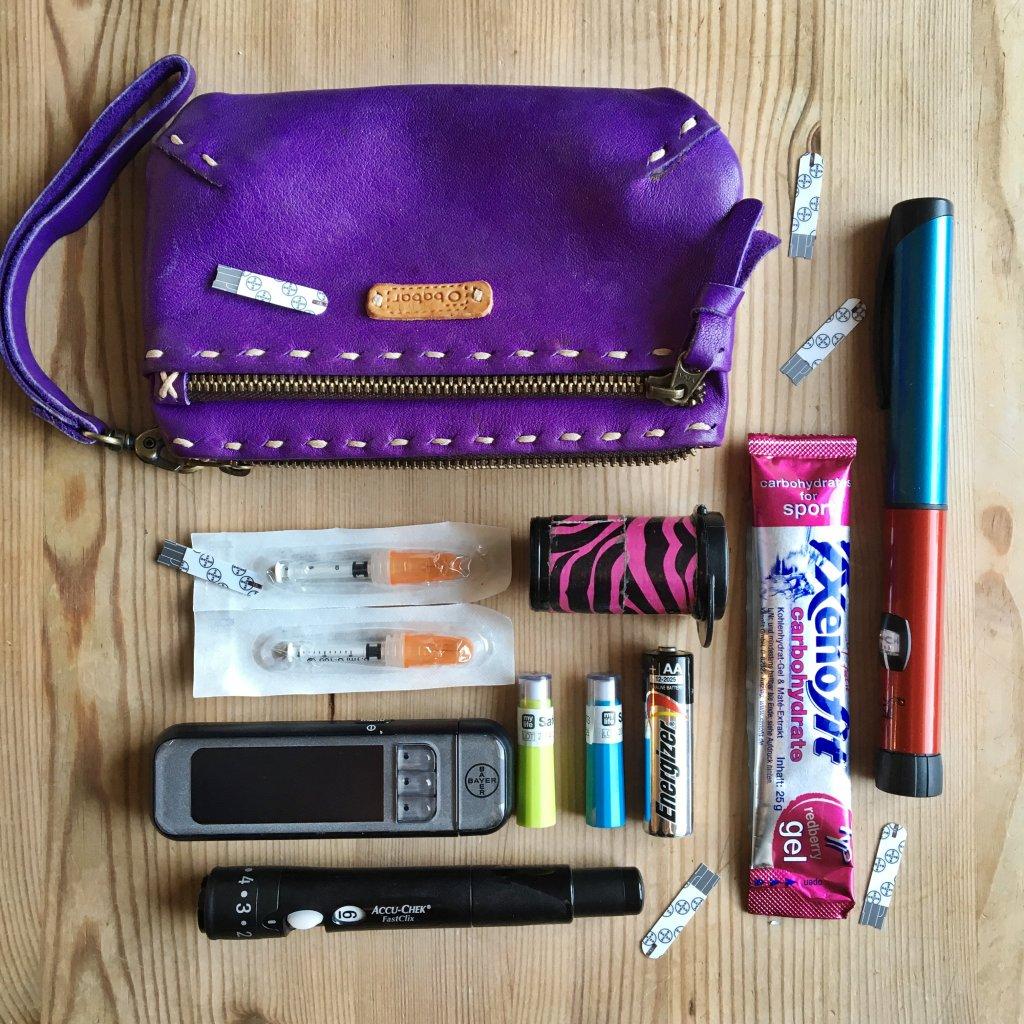 Incidentally, I never use the bags that come with the meter. They always remind me of ugly men's handbags. I like colorful things, and I also like my everyday diabetes stuff a bit more colorful. Therefore, I often change the which bag I use. One should never be bored, right? If I'm traveling a little longer, or I know that I could not go home fast enough, I also have a small bag where I keep a backup of almost everything.
Insulin
Spare infusion set
Spare pump reservoir
Spare blood glucose meter
Test strips
Glucose
Syringes
Extra pen needles
Mini syringes