When you have a life-long condition like type 1 diabetes, it automatically makes you part of a minority. It can be hard to find people to relate with who share your condition. But when you are also a person of color, it's even more difficult to find people you can share your experiences with. That's why the work of people like Ariel Lawrence is so important and why I'm talking with her today on Live With Scott.
When you have a life-long condition like type 1 diabetes, it automatically makes you part of a minority. It can be hard to find people to relate with who share your condition. But when you are also a person of color, it's even more difficult to find people you can share your experiences with. That's why the work of people like Ariel Lawrence is so important and why I'm talking with her today on "Live, with Scott!"
Ariel Lawrence is the writer at Just A Little Suga', a blog and Instagram account dedicated to her experiences as a person of color with type 1 diabetes. She partnered with Beyond Type 1 to host a panel on how to include people of color into conversations about diabetes and how to cultivate leaders in those communities. To learn more about her story, her recent panel, and why these communities are so crucial for people with type 1 diabetes, check out the episode. To learn more about Ariel, her blog is at justalittlesuga.com. If you use Instagram, she's at @justalittle_suga. Thank you, Ariel, for sharing your story with mySugr!
Summary
Ariel's diabetes story
Why Ariel started her blog
Her partnership with Beyond Type 1 for Diabetics on the Margin
Why she chose to run a panel on building diabetes communities for minorities
Where she plans to take the momentum she's built so far
Transcript
Scott: Welcome to today's show. Hey replay viewers, I want to give you a special shout-out. Thank you so much for watching. I'm so glad you're here. Stick around to hear from this week's guest, an amazing person doing great work around representation and diversity in diabetes. And hang out until the end of the episode to learn how you can win some free mySugr swag. Feel free to skip the first few minutes of intro and welcoming as we get going here.
While we're getting started, I would love to know where you're joining from today. Can you drop a quick hello in the comments and let me know where you're watching from? That also lets me know that our audio and video feed is working for you.
My name is Scott Johnson. I've been living with diabetes for more than 38 years. I've been active in the diabetes social media space for about 15 years. And I've been with mySugr for about five years. In that time, I've come to appreciate the power of perspectives, and the importance of seeking connection and shared experiences. Today is very special to me because of our guest and the work she's doing in that regard. Hang tight, she'll join us in just a minute. Before we get started. I'd like to just quickly remind you a little bit more about the show and ask for a couple of small favors.
"Live, with Scott!" will air live every Wednesday at noon Eastern Time, 9:00 AM Pacific Time. Each episode will run for about 15 to 20 minutes. I'll be covering topics of interest to you, Connecting you with fun guests like today, and bringing you updates from around the diabetes space. We'll also dedicate some episodes to Q&A and answer any questions that you send in. So, feel free to pass those along to us. The episodes are live like today, but they'll also be recorded so you don't have to worry about missing anything. My aim is to keep them short and sweet because I know how busy you are. With that in mind, I really appreciate you joining us.
I have a very special guest on the show today. I'll introduce her in just a second. But first, the favors that I mentioned. If we cover anything that resonates with you, please click that like, love, or wow button. I'd really appreciate that. If you think of anyone that might find this helpful, please share this with them. All right, are you ready to meet our special guest for today?
Again, for those just tuning in. I'm Scott Johnson with mySugr, and joining me today is Ariel Lawrence. Ariel is the founder and creator of Just a Little Suga', a popular personal blog and Instagram channel detailing her musings on life with diabetes complicated by race, culture, and family. Her aim is to draw attention to the health and narratives of individuals of color and emerge for a beacon of light for those who need it. OMG, I love that. Ariel, thank you so much for joining us today. 
Ariel: Thank you for having me Scott, I'm super excited to be here. 
Scott: Let's give a really quick shout out to the amazing Shaw at TypeONEderful. I'm sporting one of his new shirts today. Ariel mentioned she just got hers yesterday as well. So, Shaw, thanks for the great work, we love what you're doing. 
Ariel: Yes. 
Scott: Ariel, can you tell everyone a bit more about you, your diabetes story so far, and the work that you've been doing lately? 
Ariel: Yeah, of course. I was diagnosed with type 1 diabetes 12 years ago, right before my 16th birthday. And at the time, I guess you could say I was familiar with type 1 a little bit. I remember reading about it in a textbook. And so, when the symptoms emerged, frequent thirst, frequent urination, I actually remember going up to my mom and saying, "I think I might have diabetes." This is after different incidences which I could hardly hold my pee. I remember visiting my sister while she was away at school and her commenting on the fact that I was just going through all of her water in her fridge, and I was constantly waking her up at night to go to the restroom. I went back to my mom and said, "Hey, I think there's something wrong." Fortunately, I've always had parents who take in my concerns seriously. With that, they made an appointment with the doctor. I remember going to the doctor's office and getting some lab work done. And then the following day, my dad called me while I was at school. He was like, "Hey, I have to pick you up and take you to the hospital. By the way, we're going to Long Island because your mom doesn't want to go to the neighboring hospital."
So, that was my first step into life with type 1. For the most part, I guess you could say I was pretty much self-sufficient in my care. I didn't rely too much on diabetes communities when I was first diagnosed. I felt like I knew what I was doing. A lot of it was probably teenage arrogance, cockiness, whatever you might call it. It wasn't until I would say, I think, it was, let me say eight years, but I could be wrong. Guess eight years into my diagnosis when my grandmother who was living with type 2 begun to succumb to complications of diabetes. At that time, I was horrified to be straight up. I know that might sound a bit dramatic. But my grandmother was such a cornerstone within my family. And to see a woman that I had admired so much for her strength succumb to blindness, amputation, she was now on dialysis. All of that was very scary for me. I wondered would I end up like this as well? Granted, type 1 and type 2 they're different.
My grandmother had some other co-morbidities, but at the same time, complications are real. It was very scary. I knew that I needed a support system for myself. I was really desperate for a community. Then at that time, I decided to go to social media. I stumbled across a few platforms. I found that there were a lot of girls with type 1. But I didn't necessarily see a lot of folks who look like myself. So, people of color, people who could relate to this intergenerational experience of diabetes, people who could relate to the cultural ideas that come with managing a disease, et cetera. I thought that I would do something about that by creating my own platform, Just a Little Suga'. As you said, it started off as a personal blog, I like to say, with an expansive focus, so initially, my focus was just on sharing my own story, and being transparent about my experience with diabetes, what it was like to have a grandmother living with type 2, how that impacted me. And then I felt like I needed to do more. I felt like it wasn't just about me, but that there was this broader community similarly, and people of color who are looking for support as well. Then, I decided that I wanted to do more to shed light on the experience of people of color.
This year, I decided to create a project called Diabetics on The Margin, which I took two of my closest diabuddies, black and brown women, and we just did a photoshoot. The idea was to have them to just talk about their own experience with diabetes, and talk about why visibility was so important for them. That ultimately lead to different partnerships, one of which was Beyond Type 1, who asked how they could amplify my voice. I said, why not host a panel or an event for people living with diabetes. That's a little about me. 
Scott: That's amazing. Thank you for stepping up. It can be a bit scary to put so much of yourself out there. There's been a long overdue need for this. A couple of friends of ours, mutual friends, Cherise Shockley, Chelcie Rice, there are a few people that have been around and doing some great work in there. But there's never enough, right? There's so much power in everyone's different stories and perspectives. I think it's really admirable that all of you are pushing hard to make this issue much more visible and wake people up to the needs. I'm so glad that you mentioned the Diabetics on The Margin event. Can you tell us a little bit more about where the idea came from, and working with Beyond Type 1? What was the journey in putting that amazing event together? 
Ariel: Yeah. In terms of that idea, after I published & released the photo series, a lot of people commented on the fact that they wish they had a real-life community, a real-life diabuddy who again, looked like them where they felt like they could relate to in a meaningful way. A lot of people also commented on the fact that they felt like they were journeying through diabetes alone. Either because it's a person of color, and they felt like the people in their lives who were familiar with diabetes knew it from a type 2 lens. And so there wasn't anyone necessarily to connect with their experience as a type 1. With that, I felt, man, there's really this need for an in-person community. Again, Beyond Type 1 reached out to me. I think in the past, I had shared a couple of pieces of writing with them. So, there was already some type of relationship there. But they reached out to me asking how they could help me bring my ideas to fruition.
That's what I thought, man, we really needed some type of in-person event, yes, a panel would be great. My thought was, let's get leaders within the diabetes space, who can hopefully, leaders of color again, could hopefully empower other folks of color with diabetes to become more involved. The people who participated in the panel, one had a podcast, one was the founder of their own nonprofit, one with a chef who unfortunately wasn't able to make it. Another started their own foundation. So, the idea was that I really wanted a diverse representation of what it meant to be a person of color, and what it meant to be involved within the diabetes space. The idea was that these people would come, they would speak on their experience, speak on what motivated them to get involved in this community. And hopefully, by sharing their stories, they would then empower and encourage other people who are present to become more involved in the community as well.
That involvement could be something small, like just using the #t1d hashtag, or linking up with other diabetes organizations, or following them. Or it can be something much larger like figuring out how they might start their own nonprofit if they had that desire. The aims are one, get people to gather together in a physical space so that they can establish real-life connections with other people who they could relate to culturally, et cetera. And then two, to empower those same people to become more involved in the diabetes community in a way that was comfortable for them. And then three, also to get allies. People who aren't necessarily folks of color, but the point is the need an importance of creating space for everyone to get them to understand why topics of diversity and inclusion were still important, and why they should think about being champions for those types of conversations, and whatever diabetes-related spaces they might find themselves in.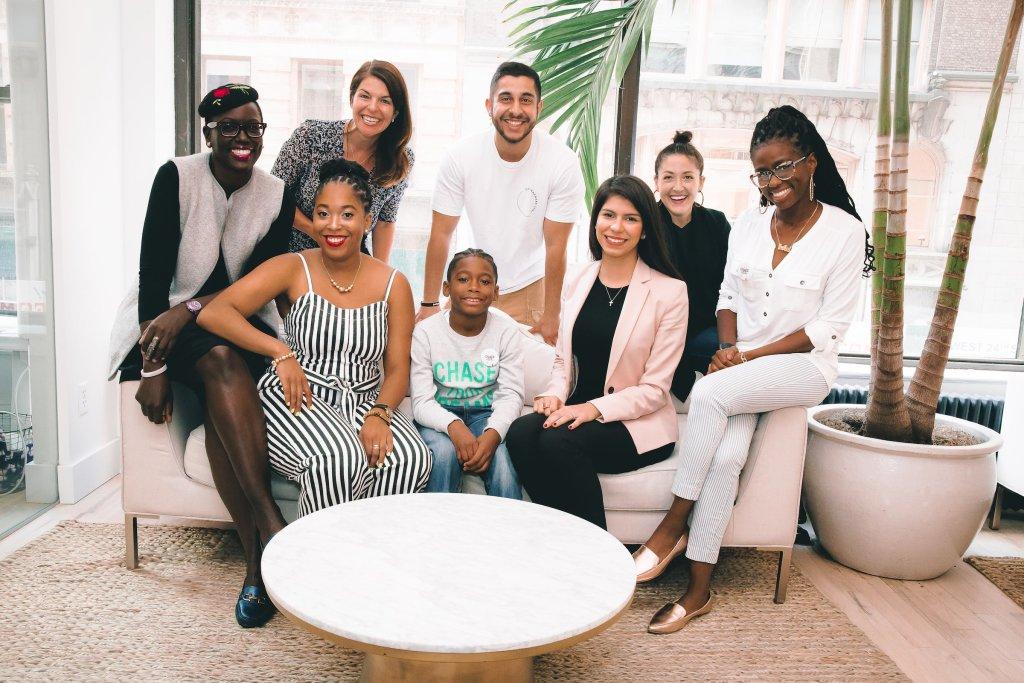 Photo credits: Alfred Sarpeh of Royal Light Photography
Panelists (left to right, top row first):
Vivian Nabeta, Founder of the Sonia Nabeta Foundation, non-profit seeking to alleviate the hefty cost of T1D treatment and provide health care for low-income children in Africa.

Ali Abdulkareem, Inspirational Vlogger and Podcast Host behind, "The Diabetes Daily Hustle". Grace Bonney, Moderator: Founder of Design Sponge, and @goodcompanyzine. Ariel Lawrence, Founder of Just a Little Suga' and creator of the "Diabetics on the Margin" series—platforms created to elevate the narratives of people of color living with diabetes. Courtney Taylor and Chase DuPont of Chase Away Diabetes, Diabetes Advocates, Mother and son duo navigating type 1 (Chase has T1D). Dr. Maria E. Peña is an Assistant Professor and Director of Endocrine Services at Mount Sinai Hospital. Her specialties are endocrinology, diabetes & Metabolism, Obesity Medicine

Scott: Yeah, that's great. The event was recorded. So, folks if you're watching and missed it or weren't able to attend. I know there were only a limited number of tickets, but our friends at Beyond Type 1 recorded the event. So, you can tune in and watch it, and enjoy the magic as it happened. I felt that you selected an amazing panel, and the moderator, Grace is that right? 
Ariel: Grace Bonnie of Design Sponge and Good Company Magazine. 
Scott: Yeah, she was fantastic. I enjoyed her. It was just a fun event to watch even though I couldn't be there in person. Thank you for bringing your dream to reality in that way. I imagine it also has sparked some bigger ideas. But before we get to that, I would love to know, all right, you have this idea for the panel, you've got some help with Beyond Type 1 and pulling everyone together. So, now it's all lined up, right? It's approaching the big day, what were your expectations and thoughts as you approached the event? 
Ariel: So, my expectation, I believe, and this sounds really corny, in the power of manifestation. My expectations for that it was going to be an awesome event, and that it would be meaningful for those people by its end, and that they would be able to walk away with a real-life friend who could relate to their experience with diabetes. Expectations again that they would feel encouraged to become more involved.
Of course, there was anxiety and all that stuff leading up to the event. But, I tried my hardest to put all of that stuff that day, and really just focus on what I felt were the potential positive outcomes, which would be that people would understand why diversity and representation were so important within the diabetes space, how lives and people's health outcomes depended on it. And people would walk away feeling more excited to tap into this diabetes community. 
Scott: Yeah, from my perspective, you pulled it off flawlessly. But how did it go from your perspective? What did you think? Now, it's show time, and you're in the thick of it, or maybe right after, how did it go from your perspective? 
Ariel: It was so magical. I sound real crazy, but when I think of the event, I could not have thought of it being any better. It's funny because I had worked with Grace on the panel questions. So, you have an idea of how the conversation is going to go. So, there was a part during the panel where I saw like, we are derailing. We're going completely off of the questions that we had intended to cover, and there is that control part of me, which is like, oh, my gosh, what is happening here? This is not what we're supposed to talk about. But I felt like allowing those moments to happen, that organic conversation, it was so important, it was so powerful because now then, there were topics or a place in the conversation where we talked about cultural competency, and the importance of psychosocial healthcare and all of these different considerations that we wouldn't have necessarily gotten to if we kept to the script. And then also in being comfortable, moving away from those established questions, there was this layer of vulnerability that really showed up, and this honesty that a lot of our panelists brought to the table, like Courtney from The Chase Away Diabetes Foundation. She was really transparent, in her own experience as a single mom taking care of a child with diabetes, and the assumptions that she sometimes met that with within the healthcare space. If we had stuck to the question that Grace and I proposed, that conversation wouldn't have happened. I honestly, again, was just wowed at the level of transparency people want to the conversation.
Grace's comment about allies, and really pushing white people to talk to their white friends, and having them understand the importance of supporting this type of work. That took a lot of courage and boldness. And I wasn't expecting that to happen. I just think that the day was phenomenal. In many ways, it was better than I envisioned and better than I could have planned if it had all just gone the way that I initially hoped for it to go. 
Scott: Good. I'm so glad to hear that because it was amazing from the viewers' perspective as well. How about big takeaways from the event? That can be anything from, as you mentioned, a few things in the conversation that came up, but also maybe plans or ideas on doing something like that, again, bigger or better, different or maybe the same, I don't know. What were some of the takeaways you had there? 
Ariel: Yes, I think my honest answer is that we're still figuring out what the next steps might look like. But then if I were to brainstorm a little bit, I could definitely say from the feedback there is a need for this to happen again, and I've asked from different people if it could happen within their own cities. So it could become like a national event that happens in different parts of the country. That would be awesome. I think, also, in terms of takeaways, I think it's clear... One of the takeaways was the fact that sometimes people assume that when we're talking about supporting people of color, other groups are excluded. That's not, in fact, the case. The reality is that in order to make meaningful gains, in terms of really creating a visible community, we need everyone at the table.
My hope is that people who might have felt initially excluded or didn't understand the importance of this work would get that they are, in fact, needed as part of these conversations as well and in order to make other events happen in the future. So yes, takeaways, more of this stuff needs to happen. We need more in-person events. Two, a lot of people talked about the need for more representative communities within the online space and really pushing different organizations to take that seriously. Then three, I think there's this realization that in order to make meaningful gains with inclusion and ensuring that we have everyone's voice, we do in fact need to have allies present at the table as well. 
Scott: Yeah, that's great. What kind of feedback have you received so far now that the event is done and you're wrapping it up and collecting your thoughts? Again, the feedback that I've seen out there has been very, very positive. I hope that that's the same, and you're getting an overwhelming amount of that.
Ariel: Yeah, I've gotten a lot of positive feedback. I've gotten feedback as it relates to the panel specifically, in some of the questions that were asked, making sure that moving forward, the type 1 experience is privileged. I think there was part of the panel where people felt that the folks who didn't necessarily have type 1 were dominating the conversation.
So, that was a push for me to be mindful of doing a more effective job in terms of moderating. I think, also, some people said that they wanted to hear more about inclusion and not necessarily some of the typical questions that I talked about in diabetes conferences or spaces. But I personally felt like a lot of the people in the room hadn't necessarily participated in a formal diabetes conference or space. So, that was totally fine. But for the most part, a lot of it was positive. A lot of it again, was, thank you so much. It felt great to be seen, it felt great to have my experience reflected, how can I be a part of this? How can I keep this going? A lot of the questions have also been like, what can I do to make sure that the momentum around this continues to move forward. So, all positive stuff this far. 
Scott: Great. 
Ariel: Also, need critical feedback too. That's fine as well! 
Scott: Critical feedback is often undervalued. But life, and especially life with diabetes, and doing life out in the public eye is about iterating, and finding ways to make your past success even more successful. So, I love that, and I love that you've got some ideas and thoughts around making the next event even better. Speaking of the next event, there's nothing I know about that's on the calendar or schedule. But I imagined you're still recovering from this, but what's next for you? What are you working on now? 
Ariel: I'm figuring it out. My honest answer is, I also got engaged at the event (!!). I know, I'm putting my personal business out there. But I think I have just been relishing in that too, which has maybe stalled some of the thinking I could have done towards thinking about what next steps might have been. But in terms of what's next, I think definitely thinking about the direction of my platform, how I can build upon that. That again, it really feels like a community space, and not so much just a personal blog. I'm looking for full-time employment too. So, that's what's next for me. Then again, there's lots of partnership with Beyond Type 1. We're continuing the conversation to see how we can both work together to continue to move this work forward around inclusion. 
Scott: That's great. We're big fans of Beyond Type 1 and all the work that they're doing. So, I think you've got a great partner in that, and they will help you and help get your message out there. For people that are interested in connecting with you and staying up to date on your work, what's the best way for people to do that? 
Ariel: Yeah, so the best way. I have an Instagram and personal blog. My Instagram handle is @JustaLittle_Suga. 
Scott: I've got it on the screen here for people. We'll also put it in the comments and get people over there. 
Ariel: Yes, thank you. Then my blog is https://justalittlesuga.com. Again, no R at the end. 
Scott: We at mySugr, we're used to spelling things a little bit different than normal. So, we can relate with what you're doing there. 
Ariel: Yes. 
Scott: Wonderful. Thank you so much, Ariel. As a special thanks to everyone watching, I have two special mySugr t-shirts that I want to give away. To enter, leave a comment and let Ariel and I know your favorite part about today's episode. Before next week's show, I'll randomly pick two lucky winners and get the word out. Another quick sponsorship message that I need to pop in here real quick.  
Thank you so much for joining today. Please share this with your friends. Give us a like and don't forget to turn on those notifications so you won't miss any upcoming episodes of the show. Ariel, thanks again for joining us. It has been a real pleasure to catch up with you. I'd love to bring you back on again and need some help getting the word out for the next event or project you're working on. 
Ariel: Thank you, that would be so great. And thank you and the mySugr team for your continued support. And your sponsorship for The Diabetics on The Margin event- 
Scott: Our pleasure. It's a privilege to support people like you doing great work out there in the community. So, thank you for that. Next week I'm bringing on Sarah Knots from our support team and we're going to do all kinds of questions about The mySugr Bundle. So, I hope that you'll tune in and watch if you have questions about that.
Thanks again everyone, and I will see you next time.