Do you use insulin? If so, do you prefer using an insulin pump? Or do you use a pen (or syringe & vial)? Why do you like one over the other?
For some, an insulin pump is the best for their diabetes therapy. For others, an insulin pump is an annoying attachment, and they'd rather not bother. Everyone's preferences and priorities are different, which makes sense. To each our own, right? As our friend Bennet famously says, your diabetes may vary!
Here in the mySugr office, we posed the question to a few of the people with diabetes on our team. It's interesting to hear why someone prefers injecting with a pen/syringe, or why someone else would defend their pump to the very end.
If you're struggling to decide, maybe some of the answers we got from the team will help! Let's start with "Team Pen":
What are the most significant benefits of injecting for you?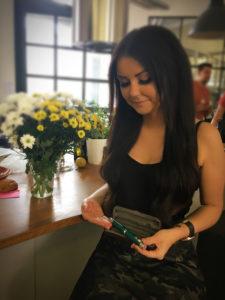 Lisa - Marketing Intern
Lisa:
I don't have to wear anything on my body.
It's super simple and easy.
And diabetes isn't so dominant in my mind – there's no constant reminder attached to me.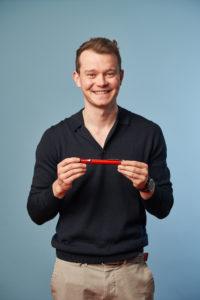 Jan – Data Scientist
Jan:
I don't like carrying things in my pockets, and I think that most insulin pumps today are still too big.
If I could control the insulin pump directly with my phone, I might change my mind.
Adi (QA Lead):
The pen is more comfortable for me. I played soccer at a professional level, and I didn't want to worry about anything attached to me. I still feel the same even though I'm not playing professionally anymore.
I feel safer with the pen because I'm less dependent on technology.
I find insulin pens more discreet because they're not always visible.
Is there anything you don't like about injecting your insulin?
Lisa:
Keeping the insulin cool in the summer is sometimes tedious.
Jan:
I wish I had an insulin calculator for pens. With the pump that would be easier because it's built-in. But the mySugr app helps with that (the mySugr app features an insulin calculator module that's approved for use in Europe).
Adi:
Sometimes I forget to inject because I think I already did it.
Especially when on vacation, I have to worry about keeping my insulin at a safe temperature.
It can be annoying to do a separate injection for everything. Meal? Poke. Snack? Poke. High BG? Poke.
Are there any situations where you especially appreciate using injections?
Lisa:
I think it's great that I can always discreetly store my insulin pen in my purse. That gives me a feeling of freedom!
Jan:
It's easy to forget whether I've injected or not, so I really like the memory function of my pen.
Adi:
As a pen user, I can easily buy the supplies. That gives me a sense of independence - whether on vacation or at home.
I find it very helpful not having to disconnect anything when I want to exercise or play sports.
Wrapping up
Like everything in life, Pen therapy has its advantages and disadvantages. Ultimately, your therapy decision is something very personal. Fortunately, we have options and can make choices!
What about you? What do you prefer? Pen or pump? Did anything here hit home for you? We'd love to hear more about it!
Next week we'll dive into the pros and cons of using an insulin pump from a few more in the mySugr monster pack. Stay tuned!