Have you ever wondered how long insulin pumps have been around, what the first insulin pump looked like and how insulin pumps have developed over the years? We're going to answer those questions for you ...
Every future monster tamer got their first set of tools and advice from their endocrinologist or diabetes team after their diabetes diagnosis, in order to put diabetes in its place from then on. 
Back then, as in most cases, this basic toolset included four things:
1. a blood sugar testing device
2. a basal insulin (also called background insulin, long-acting),
3. a bolus insulin (short-acting insulin for meals and corrections)
4. a diabetes logbook
You can call yourself a happy person if you got an insulin pump right from the start, but this is often only the case with children. 
But what is the advantage of such an insulin pump, what can it do and what advantages and perhaps disadvantages does it offer?
With this article we take a closer look at the topic of insulin pumps.

ICT as the first step on the way to an insulin pump
With the help of the "tools" mentioned above, the functions of the "lazy" pancreas should be imitated as best as possible. This form of therapy is called MDI (Multiple Daily Injections). 
The principle behind the ICT is very simple. A long-acting basal insulin supplies the body with the basic need for insulin, while the fast-acting bolus insulin is intended to cover meals and is used to correct high blood sugar levels. Sounds easy, but it is not. Here, too, the devil is in the details.
Because even with disciplined use of this type of therapy, the results are often only mediocre for many people with diabetes. It demands a high degree of discipline and knowledge of the body and diabetes from the person with diabetes and can sometimes limit the flexibility and spontaneity, such as in sports.
Just to be clear here, physical activity or sports are not a no go, as they often need to be scheduled 24 hours in advance under an ICT. Au revoir spontaneity.
Conclusion: normal blood sugar reading and good control of your blood sugar levels  are possible with conventional therapy, but in most cases it is associated with a correspondingly high outlay. But here too, everyone has to decide which form of therapy is best for them. 
We once asked our monster tamers with diabetes in the mySugr office why they chose a particular form of therapy. Here you will find the people who are "Pro Pen" and here the "Pro Pump" people.
What exactly can and does an insulin pump do?

 
Insulin pump therapy takes a slightly different approach compared to MDI. And of course there is also a more difficult medical term for it: CSII (Continuous Subcutaneous Insulin Infusion).
An insulin pump is a fairly small device these days, about the size of a desk of cards. Inside the insulin pump there is a lot of technology and a reservoir filled with insulin.
Insulin pumps use a special motor that delivers an exact dose of insulin. The insulin is delivered to the subcutaneous fatty tissue via an infusion set consisting of a tube and a catheter. There are also insulin pumps that work tubeless, but more on that later.
Insulin pumps work with fast-acting insulin
Insulin pump therapy only uses fast-acting insulin, which is released into the body throughout the day, and thus covers the basic need for insulin. In this way, the function of the pancreas is mimicked rather effectively. The pancreas of a person without diabetes works the same, continuously supplying the body with small amounts of insulin all day. Long-acting basal insulin is not used in insulin pump therapy.
Insulin pumps allow optimal adjustment of the insulin
At mealtimes or when necessary corrections are made, the required amount of bolus insulin is released at the push of a button. Handy, right? 
Since the basal insulin supply is defined by the basal rate stored in the insulin pump, it is possible not only to adapt it perfectly to the body's biorhythm, but also to your own needs.
It is possible to counteract the issues of major blood sugar fluctuations, morning blood sugar raises (dawn phenomenon) or repeated severe hypoglycemia by individually programming the insulin intake at the appropriate times.
From insulin pump backpack to discreet insulin pumps
The first insulin pump was the size of a microwave oven.
As early as 1963, Dr. Arnold Kadish developed an insulin pump that was portable in a backpack and was roughly the size of today's microwave oven. With the help of this system, better blood sugar levels could be achieved compared to conventional insulin therapy.
However, this monster of a pump was anything but suitable for everyday use. Also the risk of infections was quite high due to the venous access. Nevertheless, the system of Dr. Kadish was the pilot system for what we have today.

Insulin pumps of the 70s
The development of everyday insulin pumps slowly picked up speed in the 1970s.
Researchers from Great Britain and France began using the small, battery-operated automatic injectors that were actually used for other purposes in hospitals to continuously deliver insulin to the subcutaneous fat via a catheter. These "automatic injectors" were small devices in which a syringe was inserted, where the engine power transferred the insulin through an integrated motor. 
The delivery rate was regulated with saline. A bolus was delivered by turning a screw. In the beginning, these devices were not exactly the most comfortable and the catheter materials also presented the researchers and developers with many challenges.
The first systems followed, such as the Mill Hill Infuser or the Auto Syringe 6C. 
Fun fact: Dean Kamen, the developer of the Auto Syringe 6C, not only shrunk insulin pumps in size and thus created the template for today's pumps, but is also the inventor of the Segway!
Individual basal rate programming possible in the 80s
In the 1980s, more insulin pumps from different manufacturers came onto the market. At the same time, more and more functions that we take for granted today have found their way into the devices. An individually programmable basal rate, as is standard today, was only available in the CPI 9100 from 1982, for example.
However, this had to be reset every day because the pump did not yet have a storable data memory (RAM). This problem was later solved with the Höchst MRS 1. An hourly varying basal rate could be saved here. In the beginning, however, this was only possible by the doctor and not by the person with diabetes himself. 
Additional features that were implemented in the devices were e.g. the extended bolus, the split or dual bolus, diabetes logbook or recording functions and interfaces for data processing on the PC, CGM (Continuous Glucose Monitoring) integration etc.
What kind of insulin pumps are there today?
Nowadays, we enjoy an ever increasing selection of available insulin pumps with different features and functions. So if you are interested in an insulin pump, it makes sense to think about which functions or features are "must have" for you and which are "nice to have" at best.
Are you a tube or patch user?
In general, the systems currently on the market can be divided into two categories: tubed pumps and tubeless pumps, also known as patch pumps.
Both device categories offer both advantages and disadvantages in terms of comfort, usability and discretion.
Before deciding on a type of pump, it makes sense to find out exactly about the different insulin pump models and their functions, after all you have to walk around with them for a few years. Your diabetes team will surely assist you with this.
Always remember that you are the person who has to live with your insulin pump. Therefore, you should not make a decision for device A or B solely based on the preferences of your diabetes team. It is your diabetes and you alone decide which therapy suits you best.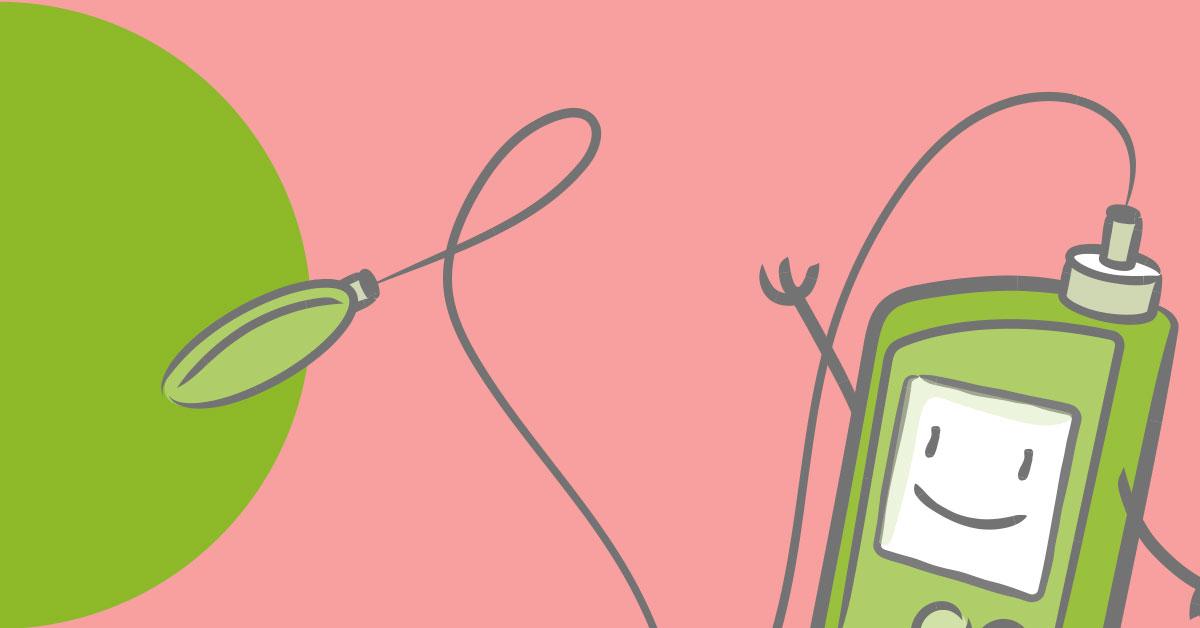 Insulin pumps with a tube
A tube pump is connected to you via the infusion set consisting of a tube and catheter 24/7. Sounds "frightening" at first, but you get used to it very quickly, as I can report from my own experience.
People who are very physically or professionally active often fear that the tube of the pump will get caught on things like doorknobs or other things around them. In reality, however, this happens less than one initially suspects.
You can either carry the insulin pump in your pocket or attach it with various accessories such as bags, belt clips, straps, etc., where it is most practical for you.
Some people with diabetes who wear a tube insulin pump prefer to discreetly wear their external pancreas in their underwear. Companies like Anna PS or Rubi Limes offer a nice selection of clothing with extra pockets for the insulin pump.
Tubeless insulin pumps (patch pumps)
Due to its smaller design, a patch pump can usually store less insulin than the variants with a tube, but can score points in other areas. The systems consist of two components. The pump as such (often called POD) and a remote control or control unit.  Patch pumps have a catheter integrated and are "glued" to the skin.
These systems do not have a tube with which you could get caught on a door handle. Patch pumps are operated and controlled via an extra controller which, depending on the model, also includes a blood glucose meter.
This means that these systems have the edge in terms of discretion. Patch pumps can be discreetly "hidden" under clothing and operated by radio remote control. No visible tube, no conspicuous fumbling.
The design of an insulin pump alone can therefore be a major factor in an important decision.
Other criteria such as battery supply, the size of the insulin reservoir or the smallest possible insulin dose must also be taken into account. And then there would be the question of which catheters and infusion sets are compatible with the respective pump.
Hybrid closed loop systems
The term closed loop refers to a system consisting of a pump and CGM (continuous glucose measurement) which, controlled by an algorithm, is used to independently control the glucose levels. Put simply, if the glucose value is too high, more insulin is released, or if it is too low the insulin release is reduced or stopped until the value is back in the target range. 
Such systems have only recently been officially approved and are achieving results that are impressive. With these systems, it is possible to keep the glucose level throughout the day and night near the target range. Of course, this is also reflected in the expected Hba1c value, which for many users of such systems is well below 7%.
But anyone who thinks that they can switch their diabetes therapy to Auto Pilot is wrong.
Such systems still require a frequent examination of your therapy.
If you set your pump well, such systems allow you to receive a mental break from diabetes more often, so to say the #momentoffreedom, and that again creates more room for the finer things in life.
Insulin pumps - a look into the future
In the next few years we will see more and more official closed loop systems on the market.
Controlling insulin pumps via smartphones or a smartwatch has long been wanted by many people with diabetes and some manufacturers are already working on a solution for this. Interoperability (that is the smart word for "ability of different systems to work together as seamlessly as possible") will continue to increase.
A lot has happened in the development of insulin pumps in recent years. From the huge backpack pump to the size of a matchbox that discreetly disappears under clothing. 
Insulin pumps are providing a good alternative to cumbersome multiple daily insulin injections (MDI) using pens or syringes. 
An insulin pump can significantly simplify everyday therapy, but it cannot completely take over. An intensive examination of one's diabetes and the functions of the selected insulin pump is essential. 
An insulin pump is not the optimal therapy for everyone living with diabetes, but now you are thoroughly informed and if possible try it at least once.

The mySugr website does not provide medical or legal advice. mySugr blog articles are not scientific articles, but intended for informational purposes only.
Medical or nutritional information on the mySugr website is not intended to replace professional medical advice, diagnosis or treatment. Always consult a physician or health care provider with any questions you may have regarding a medical condition.