Welcome to the next guest in the mySugr Spotlight series, an ever-growing lineup of people living with diabetes sharing their stories.
We ask featured guests to describe their connection to diabetes and the diagnosis experience, what's working for them/not working for them, what they want people to know about diabetes, and what their message to the world is. With that in mind, we're thrilled to introduce Hannah. Enjoy!
My diagnosis...
In 2007 I was diagnosed with type 1 diabetes. I was 11 years old weighed under 70 pounds and looked like I was wasting away. However, my diagnosis was not my first introduction to type 1 diabetes as my Dad has also been a T1D since he was 11! So as I sat in my living room on November 25, 2007, my mom looked at me and said "Sweetie, you have what daddy has." and for me, it was that simple. I was never hospitalized or admitted at diagnosis, I wasn't scared, I just had to do what my Dad did and it didn't seem that bad.
Getting involved in the diabetes space...
For me, I wanted to get involved as soon as possible in fundraising and meeting others with the same disease. I got involved with the American Diabetes Association for their Tour de Cure and was their Youth Ambassador for many years. I then attended Camp Conrad Chinnock and found my other home. I got to spend 2 weeks every summer with people that I continually talk to today and we have a special bond. We grew up together and in the midst of it all, we had to keep ourselves alive every single day and be our own nurse. Having to go through that alone would be near impossible. Luckily, I had a tribe of people by my side.
Finding the right therapy...
Through the last 11 years of being T1D I have tried all kinds of pumps. I started off on injections and refusing to even think about pump therapy, but once I realized how much easier my control could be, I couldn't get one fast enough. I started off with Medtronic, then to Animas and then back on Medtronic. For some reason, I just wasn't happy. I think the biggest issue for me was that I had been on this "leash" for over 10 years. That's 10 years of a tube getting caught on doorknobs, or having a machine on my hip every single day, I kept rolling on it in the middle of the night and waking up in pain. I was fed up, to say the least. So, as I walked around the vendors at the JDRF One Walk, I met with the Omnipod representatives and my gut knew that this was the pump for me. I am now on the Omipod and Dexcom G6 and couldn't be happier with my diabetes and the way I treat it.
What I wish people knew and what I am working on...
Something I wish people knew about type 1 diabetes is that it isn't the punchline of a joke. It wasn't caused by eating too much sugar or being obese. When I was 11 years old my body attacked the healthy beta cells thinking they were foreign and caused my pancreas to no longer be able to make any insulin.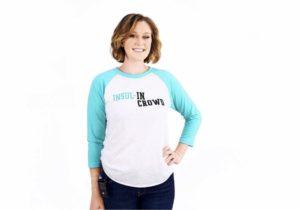 I currently am working on finishing my degree in Forensic Psychology, but am designating a lot of my free time to the T1D community. In 2015 I was diagnosed with diabetic ketoacidosis (DKA) due to frequent high blood sugars and not taking care of myself or my diabetes. After that I had some amazing people from the community reach out to me through Instagram after I shared my hospital admission and they changed my life. I felt so supported and cared about that I needed to do the same. So I am sharing my journey of learning to love my diabetes. I want everyone to not be ashamed of their pump or giving a shot in public. This disease has no cure so why should we feel embarrassed by what we can't change?
Written by: Hannah Giffin
Podcast: Insulin Junkie: A type 1 diabetes podcast
Instagram: @giffindor
Blog: https://hannahgiffin.blogspot.com 
Edited by: Sophie Brodsky Blake @diabetus422
Do you want to be featured on mySugr Spotlight, too? Great! Let's talk...